Energy Information and Advice
What does a tonne of CO2 look like?

Dave Ames, a science teacher from a High School in the US built a large cube that represents the size of 1 tonne of carbon dioxide. Click on the image link below for a breakdown of what a ton of CO2 equivaltes to.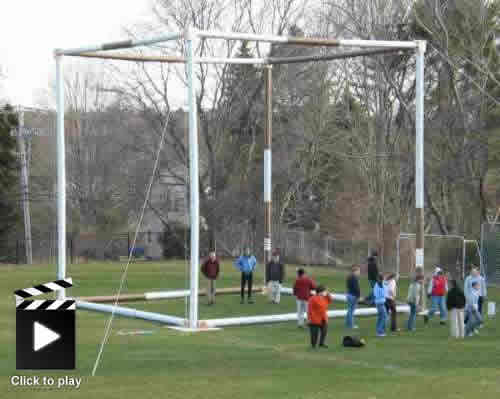 Click this image for more information on what a ton of CO2 looks like


OK, yes. CO2 (carbon dioxide) is invisible. But it's still interesting to see how much space a tonne of CO2 would take up if it were sitting in front of you.

In this case, we are talking about a metric tonne of CO2. Mr. Ames' cube, built last year with the help of his 9th grade physics students, is8.23m wide by 8.23m high by 8.23m deep.

At standard temperature and pressure, the density of carbon dioxide is around 1.98 kg/m3, about 1.5 times that of air.



Saving Carbon In Schools - A report by the Sustainable Development Commissionlooks intocarbon emissions from schools, where they arise and how to reduce them.
---
Not Yet A TeachShare Member?
TeachShare is absolutely
FREE
to all schools and provides teachers with access to what is almost certainly the largest free information resource for sustainable schools in the UK.
If you are not currently signed up to TeachShare – make sure you take full advantage of a FREE account by completing the following steps:
- Go to
http://www.TeachShare.org.uk
- Submit access code
wrr0
- Complete the simple form